Arts & Music
Promote the Peace....Participate. Around the block and around the world...
Promote the Peace...participate means what it says...people getting involved to make a difference in our neighborhoods, our communities and our world. We invite you to join us and share your talents, visions and networks with DC youth.
We view the arts as the "motion in the movement," and as such a central component in our organizing and educational programs. Musicians, poets, puppet-makers, performers, muralists, story-tellers and others of all ages have been involved in the YLSN process. Artistic freedom encourages non-traditional ways of viewing the "how's" of movement building and organizing. It speaks to both the spirit and the structures.
video clips
Freedom, Fat Tues 07 @ GMU with the DC Bside Family Funk All Stars watch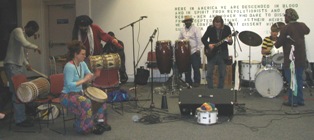 Barrio Street Theater/Teatro de los trajabores (espanol) watch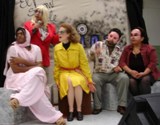 South Africa Youth Day with Lesole's Dance Project, June 16 '07 watch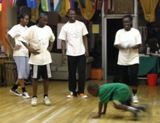 "What a Wonderful World" with Lisa, Sam & Lydian, Feb 2001 Youth Summit watch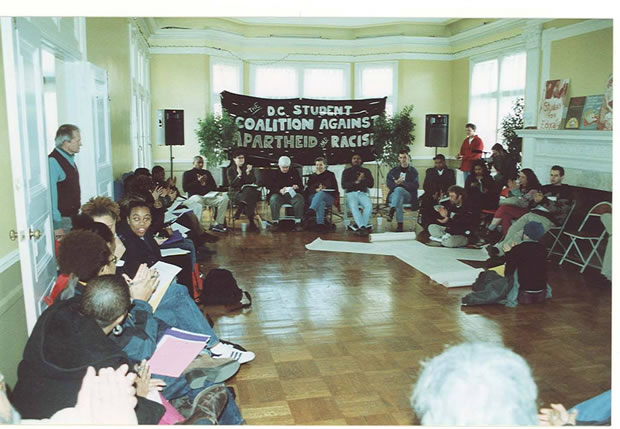 audio clips
District Circus Marching Band (New Orleans 2nd line style) listen
Songs for My Father (jazz) listen
DC Peace Soldiers (hip hop) listen
Sister Rosa Tribute, Global Youth Forum 2005 listen
Promote the Peace…Participate events began in June, 2001 and is intended to continue yearly for one hundred years, or until peace with justice is a reality.
Participation is the driving force of this project and growing every day. We are exploring how to support each other, share ideas and have socials, and significantly increase the visible presence of positive peaceful people promoting peace and justice in our communities – our space in this place at this time. We connect to the past through the oral histories of the elders amongst us, who are always invited to come out to support the youth at our events. A very flexible model is evolving which can work on a neighborhood scale within any metro area where there is interest and enthusiasm.
Visual artists are often called upon to work with youth to create marching banners, puppet-making workshops, and murals. All of our community outreach materials, often distributed door to door, prominently features art that children can keep as collectables and will help distribute to their friends and family.
The Music in the Message
Cultural performances have included many styles of creative artistic expressions including, murals, jazz, go go, spoken word, parades, hip hop, rock, punk, folk, labor, reggae, blues, funk, brass bands, traditional music from many lands, Afro-Latin, soul, dance, puppets and street theater. Word-of-mouth messages about events and programs often spread from stages in clubs and venues from Baltimore to Richmond. Local bands and touring acts often participate in shows and individual musicians are often invited to participate in ensembles created for specific events. Gigs have ranged from playing at national demonstrations of 70,000 people, club benefits, house parties, festivals and street parades.
We are forming an ongoing intergenerational marching band that will be brass and percussion driven, but include multi-harmony choral renditions of freedom songs. The sound of the Promote the Peace Marching band will combine elements of New Orleans, GoGo, Afro-Latin, jazz and funk. All welcome all the time.
Promoting Peace through Parades
Neighborhood "People's Parades" teach youth organizing skills in a safe environment filled with the beat of drums, singing, colorful banners, puppets and budding friendships.
People's Parades create opportunities for neighbors to share stories, hopes, fears, and realities of life in visible and positive community participation and sharing of our many talents. Peace is possible when people open their hearts to each other to listen and learn from one another. In the event of terrorism, parade know-how is essential for information flow, community response and support.
We have done People's Parades to Promote the Peace in Shaw, Columbia Heights and Petworth and other neighborhoods in Washington DC. These events have included door to door outreach, working with youth programs, mural, art and puppet-making, musical rehearsals and jam sessions in the days leading up to the parades. Follow-up has included rhythm workshops, media trainings, and involving participants in ongoing events.
The first planned parade was planned for Takoma DC and Takoma Park MD neighborhoods, which included door-to-door community outreach, was rained out and became an indoor festival instead. We learned a valuable lesson about scheduling parades from that first experience -- to watch the weather and be able to conduct intensive community outreach to announce the parade date in only a few days time.
Parade capacity continues to grow.
Youth and Labor Cultures
For the past ten years, the YLSN has facilitated "Youth Space" within the annual Great Labor Arts Exchange and Conference on Creative Organizing, sponsored by the Labor Heritage Foundation and held at the George Meany National Labor College, AFL-CIO, in Silver Spring, Maryland. In mid-June, cultural workers (musicians, actors, organizers, muralists,and more) from the labor movement around the nation join with DC youth in workshops, discussions, jam sessions, open mics and a free community performance. The YLSN works with the Labor Heritage Foundation and local unions to provide scholarships for DC area youth to participate in the Great Labor Arts Exchange.
The Social Context
We regularly host socials that bring a mix of musicians to jam together and provide a fun atmosphere for activists and artists to get to know each other. Many performing artists share the sentiments for peace and community that activists and organizations address, but often spend many hours on perfecting their craft and thus are not able to attend meetings and events. Activists, on the other hand, often spend so much time at meetings and events directly tackling important issues and causes that they become overstressed. Both performing artists and activists need quality time to meet each other and learn from one another outside of formal events. You can host your own social anytime and anywhere.
Some musical events have included:
April 14, 1999: Inaugural event for the YLSN at the George Meany National Labor College, honoring the 101st birthday of Paul Robeson and introducing various artists in the YLSN network to each other. The highly successful event included Lifepieces to Masterpieces, a young black male arts and theater ensemble, a Native American representative of the Piscataway Indian Nation offering prayers, Luci Murphy and Ken Giles connecting black and Jewish experiences through songs of social activism, labor singer Joe Glazer and a ten piece house band playing jazz renditions of "Ole Man River," "AfroBlue," and other songs to an enthusiastic and appreciative audience. It was the bands first and only time playing together as an ensemble, with no rehearsals or sound check performance time. The sound was beautiful and testimony to the musicianship present on stage. The evening was dedicated to three North American Indigenous activists who were killed in Columbia earlier that year and to all victims of killing fields and political violence around the world.

June 15 - 16, 2001 — "DC 2001: A Space in the Place Odyssey" summer program begins in pouring rain with 30 hour art opening, 15 hours live music at three venues. Music included Doc Powell and the Malcolm X Drummers, Moya, Anne Feeney and Chris Chandler, Rebel Voices and many, many more. The opening was the first day of the Great Labor Arts Exchange, with musicians and participants arriving from all over the country to mix, mingle and jam with DC homegrown talent.

June 21, 2001 — A week later at Jessup Blair Park, a park endangered by development on the border of DC and Silver Spring MD, a drum circle celebrated the summer Solstice and formed the Rhythm Workers Union. Provided by the inspiration of musician Marcus Sims, the Rhythm Workers Union is a marching percussion ensemble that has grown into a vibrant collective and a mainstay of peace demonstrations throughout DC.

April 20, 2002 National Peace March — YLSN Director Douglas Calvin was the stage manager for the two main stages, at Sylvan theater and on the National Mall by the Capitol, and worked to ensure musicians got equal time with speakers, including a "house band" that "accompanied" all of the speakers at the Sylvan Theater rally. Twelve performing groups from DC and around the nation took the stage with almost 50 musicians performing. Musical styles included blues, rap, folk, African, Latin, hardcore and choral. Two singers had lost family in the 911 attacks and sang in their memories.