2017 updates coming soon!
Please visit us at www.facebook.com/worldyouth.org
In the meantime, here's some links to previous YLSN adventures.
For info on 2009 events, click here
video interviews with 92-year-old Julius Margolin on the Great Labor Arts Exchange Youth Workshop page
New pics and audio up on District Circus Marching Band page
Young Women's Drumming Empowerment Project performs!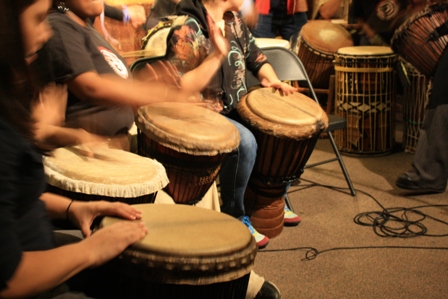 recent events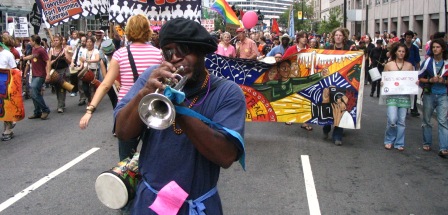 YLSN updates

July 26, 2008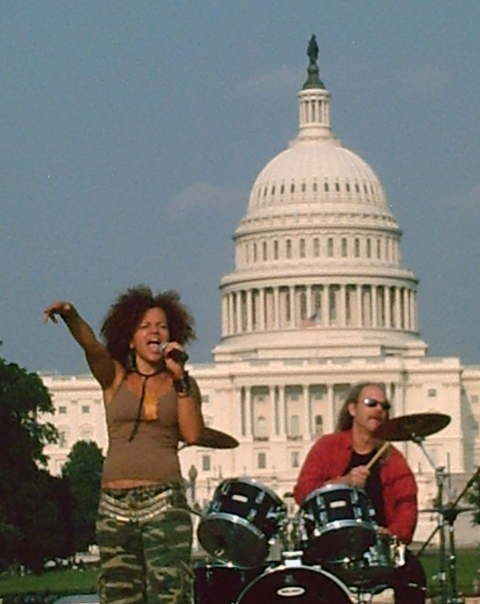 Tracey Amos performs at the Longest Walk 2 Pow Wow and Concert on the Mall, culminating the Longest Walk 2 from Alcatraz to Washington, DC to support Indigenous Rights. On the right, Kristen Arant, Director of Young Women's Drumming Empowerment Project, leads workshop at the Great Labor Arts Exchange.
YLSN's 10th year coincides with a time of great change in Washington DC, the nation and the world. It is a time of celebration, concern and civic engagement.
What's New

As the year began, we formed "The District Circus Marching Band," a dynamic group of talented musicians, dancers and puppeteers. DCMB is a great addition for our tenth year celebrations! All are welcome to join.
91-year old Julius Margolin established a scholarship for youth participation in the Great Labor Arts Exchange and is the feature of a new film. (www.aunionman.com).
98-year old photographer Milton Rogovin's family are digitizing his photos, providing curriculum and more at www.miltonrogovin.com
Elizabeth "Betita" Martínez just published "500 Years of Chicana Women's History" (Rutgers University Press)
YLSN partner Young Women's Drumming Empowerment Project has a new video
watch
YLSN's website is going multi-media with new galleries, audio and video throughout!! Since 1999 YLSN has hosted several youth summits and produced neighborhood peace parades in Shaw, Petworth, Adams Morgan, Columbia Heights, Mount Pleasant, Takoma DC, Silver Spring MD and Takoma Park MD. Feb 03 Summit clip (Listen)
From late May to mid-July, YLSN was joined by intern Kendra Penry, who compled her Masters in International Affairs from The George Washington University Elliott School of International Affairs. Her experiences included working in Appalachia, Puerto Rico, Denver and a human rights delegation to El Salvador. She worked on outreach for June events, DC Youth Media Collaborative projects and helped with sister organization, Young Women's Drumming Empowerment Project summer program.
Jan 1999: YLSN's first project was to create and publish "Paul Robeson: Voice of the People" curriculum for area schools and organizations. Robeson will be featured as 10th anniversary events begin, with talent stretching from Hollywood to Nigeria. (see below for details!)
This year also marks 25 years since the founding of DC Student Coalition against Apartheid and Racism (DC SCAR, 1983 – 1998). YLSN is digitizing DC Youth Activism Archives. DC Youth Media Collaboration supports youth media and contributes to the archives as a living history project.
Sunday June 22 – Tuesday June 24 YLSN facilitated youth workshops at the Great Labor Arts Exchange and involve DC area youth in the Exchange. Youth scholarships are available. The Exchange is a wonderful gathering of union activists and cultural workers from around the nation, including public performances, workshops and jam sessions.
For more info: email info@worldyouth.org or call (202) 316-4403
Please join us. Promote the Peace….Participate!
Please send your tax-deductable donation to:
YLSN, PO Box 5372, Takoma Park, MD 20913
Some Previous events:
April 14, 2007 Neighborhood Parade on Global Climate Change. Silver Spring, DC, Takoma Park.
April 19, 2007 Paul Robeson Tribute at George Mason University, Fairfax VA
June 17 --19, 2007 Great Labor Arts Exchnage and Conference on Creative Organizing at National Labor College, Silver Spring MD

Youth Leadership Support Network
PO Box 5372 | Takoma Park, MD 20913 | 202.316.4403
© 2013 Youth Leadership Support Network