Balkan Brass Band Workshop
with Michael Ginsburg
Sunday, May 3, 2009, 11am-1pm
Electrik Maid 268 Carroll St NW Takoma Park, MD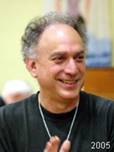 Michael Ginsberg is the leader of the band Zlatne Uste (Golden Lips) http://www.zlatneuste.org/ an internationally known group of American-born musicians playing traditional music of the Balkans, primarily representing Serbian, Macedonian, Bulgarian and Romany (Gypsy) traditions. Four-time invited guest at the Dragachevo Brass Festival in Gucha, Serbia, the 12-piece band is among the foremost presenters of traditional Balkan dance music in the United States.
Michael teaches the Balkan Brass Ensemble at East European Folklife Festival camps each year. His teaching method is to play a recording of the piece, then to teach each part (by ear) to each group of instruments, and then to bring it all together. In the 2 hour time he plans to teach us 2 pieces.
Don't wait! This workshop WILL FILL UP FAST!
"Balkan brass band music is a highly intricate, stirring, tradition-gone-wild blend with mighty layers of sound that not only make the heart pound faster but reveal the soul alongside the heart. It's the soul of a region that knows the value of taking a break from seriousness every so often, at least long enough to throw a party where the horns are never less than first rate". Tom Orr, for National Geographic .
Cost: $30. Contact Beth LeaMond to register and pay for this workshop at: bleamond@gmail.com